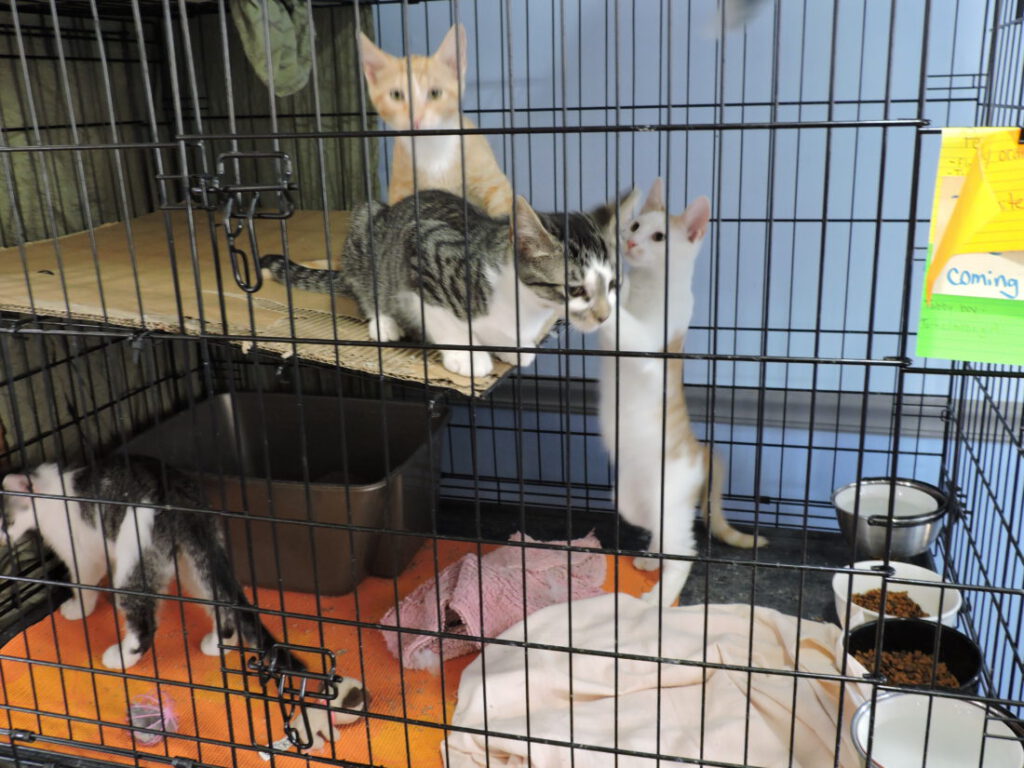 The husband always loved cats, especially kittens. He remembered being five years old and seeing his neighbor next door having this basket laid out on the pavement. It was filled with a momma cat and her five baby kittens. He petted the momma and then proceeded to pick up and hold one of the babies. Soooo cute! As he placed the baby back onto the blanket in the basket he noticed the bloody scratches on his arm. The kitten may have been little, but it still had nails. He didn't mind. The kitten was so adorable. It seems like for most of his young life the family always had a housecat, which they all spoiled rotten.
The wife too was raised with cats. As a little girl in Owasso Michigan she had lots of cats living around their house. She loved to feed them each day and play with them all the time. She too loved cats… especially little kittens. She called them ' God's gifts'.
When the couple met, after both being single for years after their respective divorces, they agreed on getting a cat as a pet. Of course the motivating factor, after they moved in together, was when they saw a little mouse running around their rental apartment. They quickly went searching for a cat, and settled on a rescue of a 6 month old female. They named her Princess, and set her out to ' Seek and destroy ' the mouse. She finally caught up with the culprit, but the mouse was too slick. He allowed Princess to carry him in her mouth, playing dead. She dropped him and he just lay there lifeless. As soon as Princess paused a moment, the little scoundrel scooted away… never to be seen again. So, they figured she did do her job after all.
The couple had had enough of Long Island, NY, with its outrageous home prices, so they took their daughter and Princess and moved to Indianapolis. They were able to afford their own home there, and Princess loved the three floors with plenty of hiding spots. Their daughter wanted another cat, so they rescued a little boy kitten, calling him Domino, what with his black and white coloring. Princess was the traditional grey Tabby, giving the two pets a nice contrast. At first Princess resented the little boy, but after a few days she began to ' Mother him'. They got along fabulously… and lived through a new move to Florida. This lasted until Princess collapsed at the age of 19 and had to be put down. The couple cried like babies in the parking lot of the emergency Vet at 3:00 AM that February night. Domino kept crying out for Princess and only lasted 6 months before the sad process had to be repeated once again. " That's it" cried the wife, " No more cats! I cannot go through this again. It hurts too much!"
The months passed too slowly for the two of them. Their two floor townhome was becoming, as he stated one day, " Like a morgue!". There was no energy in the place at all. With those two angels gone the house no longer had the joy that those two lovely creatures had brought with them. The thousands of moments of laughter and affection was now just a sad memory for the couple. Christmas came, the first one for over 19 years without the two cats, and there was no longer joy throughout the place. Not seeing Domino sound asleep inside of the Christmas tree blanket, or Princess climbing up to bat at a ball brought tears to both their eyes. Something had to be done! As January ushered in the new year the husband looked at his wife and said most assuredly " Whatta ya think? Is it time to get us some kittens? " She said she needed to think about it more. A week later, on a Saturday afternoon, she called him when he was at the horse simulcast center. " Listen, I was by the pet store here at the mall, and they have kittens to rescue. So I'm inside now." He asked her if she saw anything that caught her eye. " Well, I just held this beautiful little boy kitten. He has that orange and white coloring that I always wanted . Besides, I could never get another black and white kitten after my Domino." He asked her if they had a little girl kitten from the same litter. They did. She seemed half the size as the boy, and the husband said " Go ahead. Do it! Get them both!"
Six year later and all it has been is JOY!
PA Farruggio
July 1 2021